Tankless Water in Hunterdon, Somerset & Union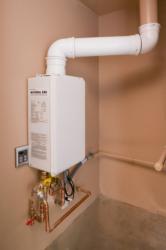 More and more people are choosing tankless water heaters over traditional water heaters these days, and for good reason. Tankless heaters are designed to provide hot water on demand, reducing standby energy losses that cost you money. In addition, tankless heaters typically last about twice as long as standard heaters. And some tankless heaters may qualify for tax rebates, saving you even more. If you're in the market for tankless water heater installation in Hunterdon, Somerset & Union, call Benjamin Franklin Plumbing to learn more about the options we offer.
Proper Installation is Key
Your tankless water heater needs to be professionally installed for optimal energy efficiency. With an expert staff of plumbing specialists, we have the tools to tackle your tankless water heater installation project. And when you work with us, you'll benefit from our:
Easy appointment scheduling
Reasonable rates
Knowledgeable, courteous plumbing professionals
For more information about our tankless water heaters or to schedule an estimate, call us today.
Our Difference
How do you know a company cares about the quality of their work? They stand behind it - that's how. At Benjamin Franklin Plumbing, the warranties and guarantees are industry leading because of our experienced technicians and the high quality parts we use. Our technicians are friendly, clean, polite, drug-free and experienced--and our techniques are state-of-the-art, guaranteed!
A Family Of Home Services:
Strong partnerships and a national support system.