Plumbing Repair Service in Hunterdon, Somerset & Union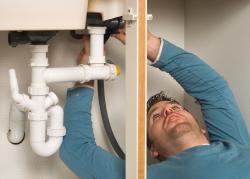 Plumbing is a job that requires special tools and skills. If you're in need of a plumbing repair service in Hunterdon, Somerset & Union, look no further than Benjamin Franklin Plumbing. We specialize in a wide variety of plumbing repairs, including:
Plumbing fixture repairs
Sewer and drain repairs
Sump pump repairs
Water heater repairs
Shower and sink repairs
Pipe repairs
Septic system repairs
Leak repairs
Invest in Great Service
If you're looking for affordable plumbing repair services that don't skimp on quality, Benjamin Franklin Plumbing is the place to turn. Remember, when you attempt to tackle plumbing problems on your own, you run the risk of personal injury and making matters worse. Don't compromise your plumbing infrastructure when Benjamin Franklin Plumbing is on hand. Whether your plumbing repair issue is an emergency or simply a nuisance, we'll respond quickly, and we'll always do our best to offer cost-effective solutions.
To speak to a helpful company representative or learn more about our plumbing repair services, call Benjamin Franklin Plumbing today.
Our Difference
How do you know a company cares about the quality of their work? They stand behind it - that's how. At Benjamin Franklin Plumbing, the warranties and guarantees are industry leading because of our experienced technicians and the high quality parts we use. Our technicians are friendly, clean, polite, drug-free and experienced--and our techniques are state-of-the-art, guaranteed!
A Family Of Home Services:
Strong partnerships and a national support system.